No one would anticipate a "shark" coming towards them unless it's "Akula". After earning millions of hearts in Auto expo 2016, moto enthusiasts kept their finger crossed to see the bike on road. Finally, the happy moment came and Apache RR 310 is launched by TVS who is celebrating its 35 years of dominance in the Indian two-wheeler market. The company claimed that this bike, although having racing DNA, would be best suited for the customers who commute to their work place on weekdays and like to rev hard their bike on track on weekends. The bike has got a 312.2 CC, liquid cooled, fuel-injected, single cylinder engine that pumps out 34 bhp of power at 9700 rpm and 27.3 Nm of torque at 7700 rpm. The engine has been partially borrowed from BMW G310R and has been jointly developed with TVS motors. Exterior is inspired by the concept "Akula" (Shark) and has sharp angles and chiseled edges.
This write-up will not deal with all technical specifications as these are readily available across the internet. We are going to look at some of the interesting reasons why Apache RR 310 would win the crown of being the most popular bike in its segment. The rivals of this bike are Yamaha R3, Benelli 302R, KTM RC 390 and Kawasaki Ninja 300. Let us see the five reasons that prove Apache will win more hearts than its rivals.
Smart Engineering
TVS has put everything it has got to build this beauty. From top engineers to top racers, a highly sophisticated team was formed to build the machine. This resulted in the best-in-class technology and equipments garnered to sculpt the beautiful beast. Some of them are:
Longer swing arm with shorter wheel base: This increases the agility of bike, yet does not affect the stability of it. This is achieved by providing the reverse engine inclined DOHC engine.
KYB suspension: KYB is a Japanese brand famous for manufacturing premium shock absorbers. RR310 has a chunky Upside Down front fork that makes the bike one of most stable and comfortable bike in its segment. While the rear mono shock come with pre-load adjustability.
Powerful acceleration: This has a striking acceleration and a good top speed figure. This brat accelerates from 0 km/h to 60 km/h in just 2.93 seconds. Just wow! It has a top speed of 160 km/hr, which is one of the best figures for its class.
Dual channel ABS with Anti-back lift feature: What more you can ask for? While others bikes, like Yamaha R3, Kawasaki Ninja 300, lack this feature; Apache RR 310 has owned the segment by not only providing a dual-channel ABS system, but also an Anti-back lift feature, which restrict the bike from lifting up of the rear wheel during hard braking.
2. Looks and Aesthetics
When we tow our attention from the engineering marvel to the body design, we do not get disappointed, neither was it a wow moment! TVS has retained the soul of the "Akula" and accoutered the bike with shark nose shaped front and curvy body. The design seems fresh, sporty and practical. Sporty and practical might sound ironic, but Yes! TVS has done it! Seating position is perfectly balanced between comfort and aggression. It has bi-LED twin projector headlamps and has snake fangs shaped rear LED tail lights. TVS has claimed that the air-drag on the bike will be considerably less as the wind tunnel testing has been done during the development process. TVS claimed it has the lowest coefficient of drag when compared to its rivals. The fit and finish of the bike is premium and put all of its rivals to shame. The inclusion of Ram-air intake increases the flow of air to the engine. The bike also has fins and vents to dissipate the heat coming out of the engine.
3. Versatility
Apache RR 310 certainly replaced Yamaha R3 to grab the title of being the most versatile bike in the segment. 310R performs equally well on race tracks and touring. Even due to marvelous heat management system and gearing, it performs well in city traffic. If we talk about the other competitors, RC 390 is a complete track-focused machine. Benelli lacks on braking and power delivery. Ninja lacks ABS and other modern equipment.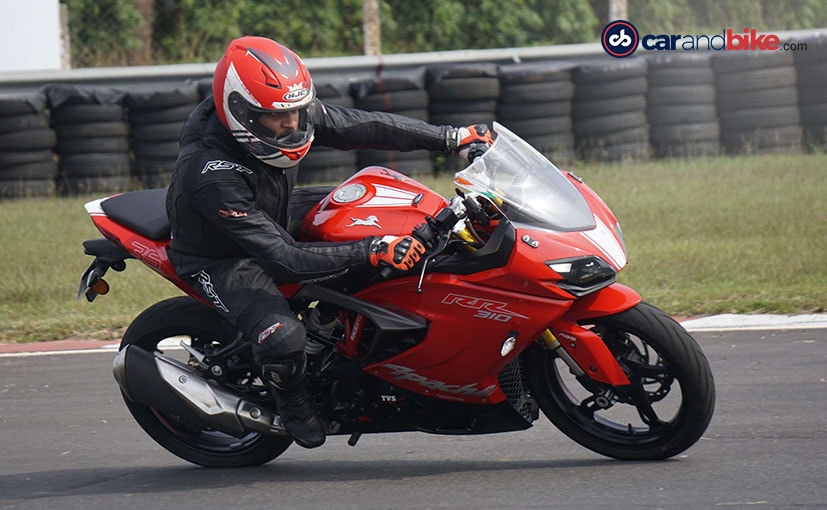 4. Price
While being price tagged at 2.05 Lakhs ex-showroom, it is the best bet you can get for the segment. If we consider Dominar 400 in the picture, Apache still has an upper hand due to better performance and design.
5. After Sales Support
TVS has one of best after-sales support in the market. In addition to that, TVS also provides a platform for the budding or even interested bikers to start and excel in bike racing. They will also provide tours of the factory where bikes are manufactured.
These points will definitely push your hunger to own an Apache RR 310, but you should also critically judge the bike. Why don't you guys discuss some of the cons of the bike here in the comment section below? Please go ahead and add your feedback to the article also.
Ciao Nerds!
Shantanu